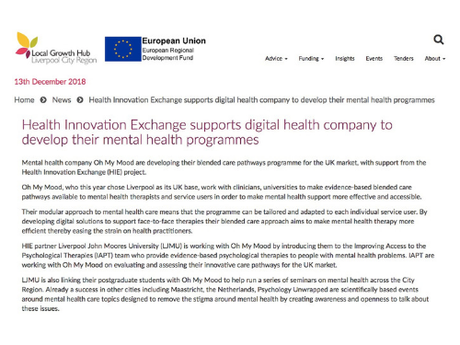 Health Innovation Exchange supports digital health company to develop their mental health programmes
Mental health company Oh My Mood are developing their blended care pathways programme for the UK market, with support from the Health Innovation Exchange (HIE) project.
HIE partner Liverpool John Moores University (LJMU) is working with Oh My Mood by introducing them to the Improving Access to the Psychological Therapies (IAPT) team who provide evidence-based psychological therapies to people with mental health problems. IAPT are working with Oh My Mood on evaluating and assessing their innovative care pathways for the UK market.
The full article is available here: https://localgrowthhub.com/news/health-innovation-exchange-supports-digital-health-company-to-develop-their-mental-health-programmes#